The PTO sponsors a variety of events to enhance the academic experience at Franklin Elementary School. If you are interested in learning more about these activities, have ideas for them, or would like to volunteer, please contact Isabel Ribeiro at isabel.ribeirony@gmail.com

Art Show
At the annual Spring Concert, our students' artwork is on display in the cafeteria. While the material for display is coordinated by the Art Teachers, parent volunteers help set up the displays and artwork. Contact: Dalia Wisniewski
Artist in Residence
Every other year, the PTO brings in an artist to work for two weeks with the 4th and 5th grade students on creating or experiencing a one of a kind piece of art. This year the entire school will work to build a mosaic that will be in the entrance hallway at Franklin. Mosaic Artist in Residence begins on October 9th and runs through October 16th.
Author Visits-
Phil Bildner – All grades
Occasionally the PTO, in conjunction with FLIC, will bring in visiting children's authors and illustrators to meet with various classes and students.  Phil Bildner will be joining us November 29, 2017.
Dan Gutman – All Grades
The Summit Education Foundation (SEF) generously provided a grant for Dan Gutman to visit all of the Summit Elementary schools. He will visit Franklin in three sessions Grades 1/2 Grades 3/4 and Grade 5 on February 2, 2018.
Colonial Day
For one day during the Spring, Fourth Grade students travel back in time to Colonial times to learn how early settlers dressed, lived and worked.  This is directly linked to their social studies curriculum.  The coordinator, typically a 4th Grade parent, works with the fourth grade teachers to organize parent volunteers who assist with activities on the day.
Cultural Arts
The Cultural Arts Committee researches, selects, and arranges various in-school assembly programs during the school year. The programs, performed by professional artists, span the arts and sciences, including music, dance, theater, story-telling, mime, ecology, and physical sciences.
Contacts: Stacie Collins (staciesimscollins@comcast.net) or Amanda Grainger  (abgrainger@yahoo.com)
Elementary School Assemblies    
For the 2017-2018 school year, we have John Marshall the Weatherman, The Franklin Institute "Flight," Illstyle & Peace, What's Out There-An Inflatable Planetarium.
John Marshall Weather Assembly- October 31, 2017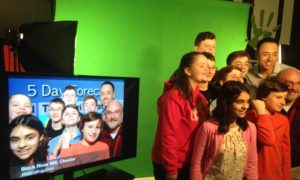 The live mobile weather studio will come to Franklin for a dynamic assembly.
John Marshall with answer some of the following questions. Why is there weather and seasons? What are the types of storms and clouds? Students will learn about the weather balloon and weather instruments.
The Franklin Institute "Flight"  – January 26, 2018    
Students will learn about the history of flight, the Bernoulli principle, and  how airplane wings provide lift. Demonstrations include a mechanical birds, hot air balloons, gliders, and a rocket launch.
What's Out There-An Inflatable Planetarium – April 5-6,2018
BMX Bike Stunt Show – June 1, 2018
A high energy, educational choreographed bike show. Demonstrations can take place inside or outside.